Favorite Recipes from Hoyt and Family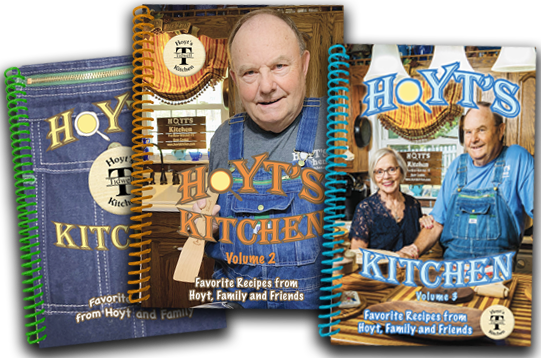 Hoyt Tidwell of Hoyt's Kitchen is famous for his cooking videos especially his Chicken & Dumplings found on page 17 of his Volume 1 cookbook! These down home recipes from Hoyt's Kitchen and his family are sure to bring your family to the table for good food and family time! Volume 2 and 3 also include recipes from friends.
Over 300 recipes in each volume!
To purchase visit: https://www.hoytskitchen.com/shop-now
Check out this terrific book by the Fairfield Women's Club in Fairfield Iowa. With almost 500 recipes this book is filled with tasty tried-and-true meal options. Cookbooks make great gifts and support great causes! Order you copy today from the Fairfield Women's Club. www.fairfieldiowawomensclub.org
Books are $20 each and $4.95 shipping
To purchase email: jg441157j5x@iowatelecom.net
Fannin Family and Friends Favorite Foods!
A collection of cookbooks filled with recipes inspired by elegant entering with family and friends! You are sure to find new found favorites in the Fannin Family and Friends Favorite Foods! These popular books have been reprinted many times and are filled with a wonderful assortment of recipes.
Fannin Family and Friends Favorite Foods! Often Fabulous! Always Fun
Vol 1 – 2001 (Publication #8276) – 799 Recipes
Vol 2 – 2004 (Publication #9458) – 729 Recipes
Vol 3 – 2004 (Publication #9459)- 547 recipes
Menu edition – 2017 (Publication 15,868) – 831 Recipes
Books can be purchased at the following links:
ETSY: https://www.etsy.com/market/judy_fannin
Jesse Stuart Foundation Bookstore : https://www.jsfbooks.com/search?type=product&q=Judy+Fannin#sthash.1XzmrB2s.dpbs
Veterans' groups may use the books as a starting point for collecting memories to create a book of shared memories to be printed. "My Military Memories" makes a great gift with bulk rates available for groups with a sponsor purchasing books for veterans.
"My Military Memories" Journal
Capture memories and leave a legacy with the "My Military Memories" Journal. This journal is designed to guide veterans in recording their reflections of the time they served. Perfect for family/friends to start a conversation with a loved one about their service and create a lasting legacy. Journal pages can also be used to tape or glue in photos. A map at the back of the book gives veterans a chance to mark where they served.
My Favorite Recipes
Our Recipe journals have 100 pages for you to record your favorite recipes.
You can use them to treasure family recipes, or use them as a building block for collecting recipes to put a church or organization's quick fundraiser together.
The "Recipes and Reflections" Perpetual Calendar makes a perfect gift! The first day of the month is an index of recipes for that month. The rest of the days of the month have a tasty recipe and an inspirational quote.
Recipes & Reflections Perpetual Calendar
January: Soups and Starters
February: Breads & Coffeecakes
March: Fruits & Condiments
April: Breakfast & Brunch
May: Salads & Sandwiches
June: Picnics & Potlucks
July: Casseroles & Main Dishes
August: Meats & Fish
September: Vegetables & Side Dishes
October: Desserts & Beverages
November: Cookies
December: Holidays